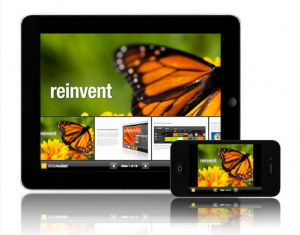 Sliderocket is een online dienst waarmee je presentaties online kunt aanbieden. Ze gaan een stuk verder dan bijvoorbeeld Slideshare in dat ze niet alleen een conversie van bijvoorbeeld PowerPoint naar een online viewer leveren, maar ook een online auteursomgeving voor het samenstellen van presentaties en een beheeromgeving voor het onderhouden van zulke presentaties.
Bij de gratis versie van SlideRocket heb je 250MB opslag en kunnen bestanden die je toevoegt maximaal 15MB groot zijn. Bij de betaalde varianten worden die omvangen groter, maar de bedragen ook.
Met $240 per jaar is de Pro-versie in ieder geval niet gericht op individuele consumenten of mensen die af en toe een presentatie willen maken.

Net als zoveel anderen gebruikt SlideRocket Flash voor het weergeven van de resultaten. Maar omdat Flash niet werkt op de iPad of de iPhone was het voor een deel van de gebruikers tot nu toe niet mogelijk om de presentaties te bekijken op zo'n apparaat. Daar is nu (deels) verandering in gekomen. SlideRocket heeft een HTML5 player in gebruik genomen die ook werkt op de iPad en de iPhone. Zie hun bericht hier voor links naar voorbeelden.
Je kunt de presentaties waar daar naar gelinkt worden ook op een laptop/desktop openen, maar dan kom je uit bij de Flash-versie van de presentatie. De HTML5-versie wordt alleen getoond als er geen Flash beschikbaar is.
Het ziet er mooi uit, maar ik kan met Keynote op de iPad qua presentatie (bijna) hetzelfde voor elkaar krijgen, maar in situaties met de wens om meer centraal te organiseren kan dit een handige oplossing zijn.