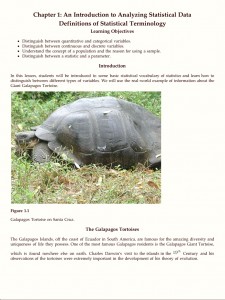 De CK-12 stichting is een organisatie die als doel heeft om de kosten van onderwijsboeken in de K12 markt in de VS en daarbuiten te verlagen. Ze willen dat doen door middel van "FlexBooks". In dit filmpje wordt uitgelegd hoe je zelf je boeken kunt samenstellen uit de beschikbare onderdelen, het gebruik van de docenthandleidingen etc.
Mooi is dat de boeken als elektronische boeken (deels als ePUB, allemaal als PDF) te downloaden zijn, ook vanuit Nederland. De boeken zijn voorzien van een Creative Commons BY-NC-SA 3.0 licentie. Dus voor niet commercieel gebruik mag je stukken of het geheel hergebruiken, zolang je maar aan bronvermelding doet en bij herpublicatie moet je dezelfde licentie gebruiken.
Ik kon overigens niet vinden hoe je zelf een ePUB maakt op basis van de delen van de boeken. Opties die ik wel zag waren PDF, HTML en de online Flash viewer die ze gebruiken. Ik weet dus niet of de boeken die nu als ePUB aangeboden worden handmatig geconverteerd zijn of dat ze het automatisch converteren nu aan het testen zijn (er staat bij dat de ePUBs een pilot zijn).
Dat de boeken in het Engels zijn geschreven maakt ze natuurlijk voor het Nederlands onderwijs wat minder direct geschikt, maar ik kan me wel voorstellen dat ze voor docenten handig aanvullend materiaal danwel inspiratie kunnen vormen.