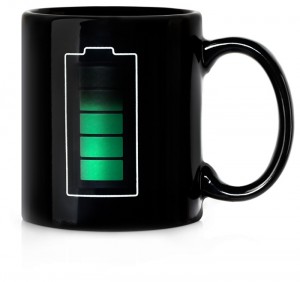 Het concept was leuk: de batterij op de buitenkant van deze koffiemok is een indicator van de temperatuur van de koffie en de hoeveelheid koffie die nog in de mok zit.
Helaas, zo constateren ze ook bij Gizmodo, zegt het niks over de sterkte van de koffie. Dat kan nog steeds slappe bak uit de automaat zijn.
Ook helaas is dat het toch net wat duur is om zomaar te bestellen. De mok op zich gaat nog, voor $28 is hij van jou. Maar daarnaast zou je dan wel nog $79 (bij verzending via Pony Express of DHL) of $34 bij verzending via de Russische posterijen aan verzendkosten moeten bestalen. Dan kost die mok dus opeens $62 (46 euro) als je de Russiche post vertrouwd of zelfs $107 (80 euro) moeten kosten. Dan proef ik toch liever zelf wel hoe heet de koffie is. Is een stuk goedkoper en dan weet ik wél meteen hoe sterk of hij is.
(getipt door Gizmodo)