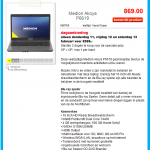 Medion staat er om bekend dat ze scherp geprijsde systemen leveren via de niet gebruikelijke outlets (Aldi, Gamma en zo). Het is dan ook niet zo heel gek dat Intertoys voor de komende week (11 t/m 13 februari) een aanbieding heeft van een Medion Akoya P6619 laptop. Voor 599 euro krijg je dan een laptop met een Intel Pentium Dual Core T440, 4GB intern geheugen, een 500GB harde schijf, ingebouwde webcam, multi-kaartlezer, Windows 7 Home Premium, én Blue-ray speler + HDMI uitgang.
In de folder staat ten onrechte dat het 16-inch scherm Full HD is, maar omdat eronder staat dat de resolutie 1366×768 is (op de website staat "HD Ready") is het duidelijk dat dat niet zo is.
Ik heb geen idee hoe deze laptop zich voor overige zaken houdt, kan op basis van de afbeelding ook zaken als stevigheid, duurzaamheid, batterijduur, gewicht etc. niet inschatten, maar 599 euro voor een laptop waar je Blu-ray op kunt afspelen vind ik niet veel geld.
N.B. Ik verwijs weliswaar naar een advertentie van een commercieel bedrijf, maar dit is geen advertorial, ik krijg hier ook niet voor betaald of zo. Vragen in de trand van "is het apparaat geschikt voor spel X of toepassing Y?" kun je hier stellen maar verwacht dan geen antwoord want ik weet niet meer van het apparaat dan de specs in de advertentie..