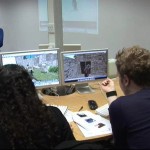 Het is een workshop van bijna een jaar geleden, maar ik had er nog niet over gehoord en geschreven, terwijl het wel een interessant verhaal blijft. En dus verwijs ik nu naar de Dramatic Writing Utilising Virtual Worlds module die de Universiteit van Plymouth begin vorig jaar uitvoerde. Studenten maakten daarbij een account en avatar aan in Second Life, schreven in groepjes van 2 of 3 deelnemers korte "plays" (toneelstukjes) van 3-5 minuten en voerden die daar uit.
De video die gemaakt is van de module (ik link er even naar omdat het een WMV bestand is) laat iets zien van de opzet. Op de pagina met uitleg over de module vind je ook een aantal opnames van de resultaten.
Ik vind het jammer dat er geen evaluatie en/of uitleg staat over waarom er (nog?) geen vervolg is. Ik kon geen andere recentere voorbeelden vinden die zo goed online gedocumenteerd waren als deze, maar het department of drama van de Universiteit van New York is in ieder geval nog actief in Second Life. Daar staat voor april een voorstelling in Second Life gepland.
(getipt door Patricia)