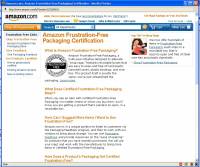 "Amazon Frustration-Free Packaging, a multi-year initiative designed to alleviate "wrap rage," features recyclable boxes that are easy to open and free of hard plastic clamshell cases, plastic bindings, and wire ties. The product itself is exactly the same–we've just streamlined the packaging.

Learn more

."
Hoe verzin je het? Of eigenlijk, waarom verzint niet iedereen dit? Amazon biedt bij een groeiend aantal producten een zogeheten "Frustration-Free Packaging" certificaat. Dat betekent dat een product in een recyclebare, eenvoudig te openen verpakking zit. Ik zag het certificaat bij de Kindle DX (nog) niet staan, terwijl ik ook die verpakking zowel mooi als heel eenvoudig te openen vond.
Topper wat frustratie betreft voor zover ik ze ken zijn die dozen met kinderspeelgoed waarbij je door het plastic kijkvenster bijvoorbeeld een vrachtwagen met onderdelen kunt zien of een poppengezin met meubels waarbij dan elk deelonderdeeltje met ijzerdraad vast zit zodat het niet omvalt in de winkel. Daar ben je als ouder een half uur mee bezig om uit te pakken.
Goed plan dus. Wie volgt?