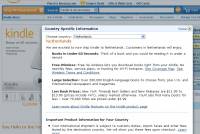 "[Amazon] today announced that it is lowering the price of its #1 bestseller Kindle to $259, down from $299. Also today, Amazon.com introduced a new addition to its family of portable reading devices – Kindle with U.S. & International Wireless. Kindle with U.S. & International Wireless now enables readers to wirelessly download content in over 100 countries and territories. Readers can pre-order Kindle with U.S. & International Wireless starting today for $279 at www.amazon.com/kindle and it ships October 19."

(bron)
Zat iedereen te wachten op een mogelijke introductie van de Kindle in het Verenigd Koninkrijk, blijkt Amazon de Apple-route genomen te hebben: na een lange stilte over bredere uitrol, is daar opeens de aankondiging dat ze per 19 oktober de Kindle 2 in 100 landen/gebieden zullen gaan uitleveren.
Dat betekent:
* Niet meer via een omweg bestellen van de Kindle 2, maar rechtstreeks bij Amazon.
* Gratis (bij de prijs inbegrepen) mobiel internet met dekking in 100 landen, waaronder Nederland.
* Rechtstreeks vanaf je Kindle 2, vanuit Nederland, boeken kopen bij Amazon die dan direct, waar je ook bent via het mobiele netwerk worden afgeleverd op je Kindle. Dat geldt ook voor de bij Amazon verkrijgbare kranten en tijdschriften.
In de categorie helaas: "Blogs and the experimental web browser are currently not available for your country". Maar goed, daar zit het woord "currently" in, kan nog wijzigen.
En ja, ook helaas voor mij: dit is nog niet in Kindle DX-vorm verkrijgbaar en omdat mijn Kindle DX een modem ingebouwd heeft zitten dat hier in Nederland niet werkt, zal dat ook nooit op dit apparaat gaan werken. Dat wist ik, pech gehad, kan me ook niet schelen.
Ik neem in ieder geval aan dat ook ik het voordeel heb van het wegvallen van de zotte beperking dat alleen inwoners uit de VS bij Amazon eBooks konden kopen via de 'gewone' weg.
Dit betekent meer concurrentie voor Bol.com, de noodzaak voor Sony om hun exemplaar met mobiel netwerk ook breed uit te rollen. Ik neem aan dat het ook voor BeBook een stimulans is om hun BeBook 2 (die ook 3G toegang zou krijgen) nu snel op de markt te brengen.
De internationale Kindle 2 kost $279 (excl. hoes: $29,99). Ik kon niet zo snel ontdekken wat verzendkosten naar Nederland zijn, maar bij de huidige koers, met daarbovenop 19% BTW en 12,50 euro handlingskosten kom je op ongeveer 250-300 euro. Vergelijkbaar dus met de Sony Reader Touch Edition, zonder touch, met mét mobiel netwerk.
p.s. Ik vrees dat ik mezelf even zal moeten weerhouden om er eentje aan te schaffen, tenzij er iemand is die een leuk bod doet op mijn BeBook 1. Hij is in prima staat, nieuwste firmware er op, originele doos bewaard. Voor 150 euro of meer wil ik hem wel van eigenaar laten wisselen. Dat is 100 euro onder de nieuwprijs.
Mijn BeBook 1 is inmiddels verkocht. De bestelling voor de Kindle 2 geplaatst.
p.s. #2 Één ding om wel in de gaten te houden: zover ik weet heeft Amazon nog niets gewijzigd aan de firmware op de Kindle 2. Dat betekent dat je op de Kindle 2 (standaard) géén boeken kunt lezen die je bij Bol.com aanschaft!
p.s. #3 Detail dat laat zien hoe zot de wereld is:
"Amazon staved off copyright problems by negotiating an arrangement with English language publishers that pays royalties depending on the territory of purchase. (If you buy a copy of The Perfect Thing in London, for instance, the UK publisher Ebury press gets the sale, instead of US publisher Simon & Schuster.) Still, the rights clearances aren't yet comprehensive; of the 350,000 books in the Kindle store, only around 200,000 will be available in some countries."

(bron)
Het web is dan wel "world wide", elektronische boeken zijn dat nog steeds niet.