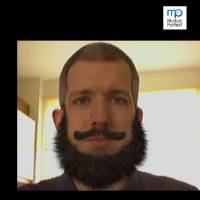 Ik weet nog niet of ik het vooral grappig vind of alleen heel eng, deze site in Japan.
Je kunt er je eigen foto uploaden en dan wordt die omgezet in een bewegende foto. Met heel enge ogen. Klik je met je muis op de foto dan volgen "jouw" ogen die muis en klik je op een van de ballonnen die langs komen dan kun je je gezicht nog verder aanpassen.
Als je wilt kun je dan de foto met het resultaat opslaan op je computer (zoals ik hier gedaan heb).
Ik heb een kort filmpje (zonder geluid) opgenomen met de werking van de site voor als je het wilt zien.