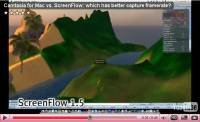 "I'm sticking to ScreenFlow – who recently announced their 2.0 release – for now. The biggest Camtasia for Mac crippler is very slow capture. A jerky framerate which is unacceptable in today's fluid, kinetic world. Especially if you're doing machinima or recording visualizations."

(bron)
Duidelijke taal van Torley Linden na een korte praktijktest van Camtasia for Mac in vergelijking met ScreenFlow (eveneens voor de Mac). Hij heeft een kort vergelijkend filmpje online gezet met daarin een opname in Second Life.
Overigens, Torley geeft wel aan dat ScreenFlow wellicht nu superieur is als het gaat om framerate, Techsmith wint het wat betreft support. En daar kan ik me heel wat bij voorstellen.