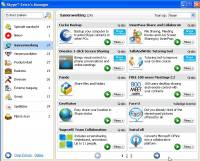 "Skype has always focused on delivering products that delight our users. For many years, the Skype Developer Program has offered a wide range of tools that allow third-party developers to create hardware and software that work with Skype. Many innovative applications have been developed and distributed over the years and we feel fortunate to have worked with some of the best developers anywhere.
Despite the incredible breadth of Extras developed for Skype, simply not enough people were using them to justify our continued support of the Extras programme. Unfortunately, effective today, we will shut down the Skype Extras programme."

(bron)
Schreef ik eerder deze week nog over interessante nieuwe uitbreidingen aan Skype, nu komt er het bericht dat de bestaande groep uitbreidingen, de "Extra's" (een soort Skype plugins die je kon downloaden/kopen) meteen ook de totale groep is/wordt.
Skype zal niet langer nieuwe Extras toevoegen aan het huidige aanbod omdat er te weinig gebruik van gemaakt wordt. Net als Mashable vind ik het een opmerkelijke stap. Je zou denken dat ze, zo net na de verkoop/aankoop, nog eerst een poging zouden doen om e.e.a. nieuw leven in te blazen. Uitbreidingen van anderen op je site/dienst/applicatie zijn namelijk zaken die anderen juist toevoegen.
Ik kan niet zeggen dat ik de functionaliteit écht heel hard ga missen. Het enige dat ik er ooit van gebruikt heb is de optie om de desktop te delen (om op afstand ondersteuning te bieden via Skype) en die optie zit nu ook in Skype zelf.