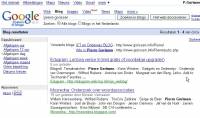 "We expected some problems from blogroll matches, but may have underestimated the impact on searches using the link: operator or where the query matches a blog or blogger's name. We do expect to fix the problem you're seeing. We'll use the full page content, but exclude the content that isn't really part of the post. I'm not sure if we'll be able to make the change before the end of the year, but we are working on it and are pretty confident that it can be solved.
We'll post an update here when we've got a solution."

(bron)
Via een post op het Google Operating System blog kwam ik na een paar keer doorklikken terecht bij een post op het Google Blogsearch forum die uitleg gaf bij een verschijnsel dat ik zelf ook al tijdje tegen kwam, maar waarvan ik niet wist waar dat aan lag: de egosearch functie van Google Blogsearch is stuk.
Mocht je écht niet weten wat dat is: een egosearch is een zoekopdracht op basis van je eigen naam op Google of een andere zoekmachine.
Het mooie bij een egosearch bij Google blogsearch is dat je het resultaat op datum kunt sorteren (de meest nieuwe eerst) en dan kun je de RSS-feed van die zoekopdracht aan Google Reader of andere RSS-lezer toevoegen.
Het is iets wat elk bedrijf zo moeten doen voor de bedrijfnaam en een aantal relevante trefwoorden/productnamen.
Maar ook voor 'gewone' mensen, bloggers is het handig. Ik heb zo namelijk wel vaker berichten gevonden op andere sites die verwezen naar iets wat ik geschreven of gedaan had en die ik niet via de gewone RSS feeds gezien had.
Het feit dat je zo'n bericht dan nu wel vindt maakt dat je het kunt lezen en er op kunt reageren als je wilt.
Hoe dan ook, die optie is nu al ruim een maand stuk omdat Google blogsearch niet langer de RSS-feeds zelf van blogs indexeert, maar de hele pagina-inhoud. Vergelijkbaar met de 'gewone' zoekmachine. En daardoor worden de blogrolls, de lijstjes met links met verwijzingen naar andere bloggers, telkens meegenomen in de indexering van de berichten.
Daardoor lijkt het dan dat een bericht verwijst naar al die bloggers in de blogroll en zal het bericht ook als 'hit' verschijnen bij een egosearch in Google blogsearch. Ook al wordt er in dat bericht zelf helemaal niet naar die blogger verwezen.
Onhandig, maar iets wat Google gelukkig ook opgemerkt heeft en waaraan ze nu blijkbaar hard aan het oplossen ervan. Kunnen we straks tenminste weer zonder problemen en valse hits door gaan met egosearchen.