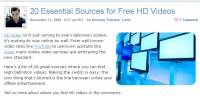 Tijdens de SURFnet sessie over HD video tijdens de SURF Onderwijsdagen afgelopen week werd er nog naar gevraagd: voorbeelden van high definition video in verschillende bestandsformaten. Op het Mashable blog vandaag staan 20 bronnen waaronder verwijzingen naar voorbeeldbestanden in WMV, Quicktime en Flash of Silverlight 'formaat'.
Zie: http://mashable.com/2008/11/13/free-hd-video/
Ideaal dus als je die nieuw beamer, je laptop, netwerk of SURFmedia wilt testen in combinatie met high definition videomateriaal zonder dat je zelf aan de slag moet om clips in de verschillende formaten te maken.