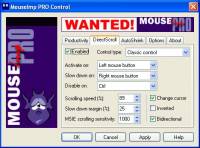 Het touchscreen op de eeePC 901 werkt nog steeds naar alle tevredenheid, gelukkig nog geen mankementen en niet eens een noodzaak om te calibreren sinds de eerste installatie.
Daarom is het eigenlijk verrassend dat ik pas vandaag tegen MouseImp aan liep. Tot nu toe heb ik genoegen genomen met Grab and Drag waarmee ik gemakkelijk kon scrollen in Firefox.
Maar in Word, Adobe Acrobat of de Explorer van Windows XP zelf moest ik steeds de scrollbar aan de zijkant gebruiken voor het scrollen. En dat werkt op zo'n klein scherm niet zo heel fijn.
MouseImp voegt die ondersteuning toe en werkt naast de hierboven genoemde programma's ook gewoon in Firefox, dus de Grab and Drag plugin staat nu even uit.
Het programma werkt ook in de nieuwe Opera 9.6 maar deed niets in Google Chrome.
Het werkt heerlijk, het is eigenlijk jammer dat het niet gewoon overal werkt. Ik heb het programma ook op de HP/Compaq tabletPC geïnstalleerd en ook met de pen werkt het daar prima.