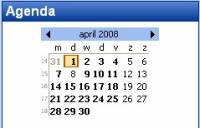 Terwijl mijn biologische klok nog niet helemaal aangepast is aan de zomertijd is het hier stilletjes aan al weer voorbij middernacht en dus is de dag aangebroken waarop ik Google Reader maar even links laat liggen.
Want elk verhaal dat maar een beetje spannend of sensationeel klinkt is vandaag verdacht.
En dan te bedenken dat er op zo'n dag als vandaag nog steeds echte dingen gebeuren en ook soms echte sensationele producten gelanceerd worden, zoals toen Google in 2004 aankondigde de voor die tijd enorme hoeveelheid van 1GB per gratis mailaccount te zullen gaan aanbieden. Maar dit bericht over Future Search kan natuurlijk wel gewoon op de stapel.
Hoe dan ook, als je inspiratie nodig hebt, of gewoon geen idee hebt van wat je de afgelopen jaren gemist hebt, zie deze links:
* Wikipedia
* startpagina.nl
* startkabel.nl
* allepaginas.nl
p.s. als je vandaag dus een serieus bericht plaatst is de kans daarom heel erg klein dat ik dat zie.