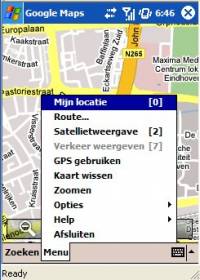 Als het werkt is het een handige feature: de mobiele versie van Google Maps, dus de versie die je o.a. op een Pocket PC of Windows Mobile telefoon kunt installeren, gebruikt de informatie over de locaties van de verschillende zendantennes van het GSM netwerk om ongeveer te bepalen waar jij bent. Dan heb je dus geen GPS ontvanger meer nodig om jezelf terug te vinden op die Google kaart.
Klinkt een beetje als wat ze op tv in CSI en zo doen en dus eng (weet Google dan ook al waar je bent?). In dit filmpje van Lee Lefever wordt echter uitgelegd hoe e.e.a. werkt.
De Google Maps Mobile applicatie is beschikbaar in het Nederlands, maar het is mij niet duidelijk of de feature ook al in Nederland hoort te werken. Ik kom niet verder dan de melding "Uw huidige locatie is momenteel niet beschikbaar". Het is sowieso een toepassing die ik niet vaak zal gebruiken aangezien bij het voor de eerste keer opstarten uitdrukkelijk gewaarschuwd wordt voor het feit dat de toepassing erg veel dataverkeer veroorzaakt en dat je dat dus alleen moet doen als je een onbeperkt dataplan hebt. En voor zover ik weet hebben wij dat niet.