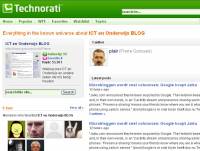 "Please accept my sincerest apologies for the delay in getting back to you. I've taken a look at the issue regarding picking up your pings for your blog. After making a small adjustment, I've sent our spiders to revisit your page and your blogs should be indexed successfully from now on"
Nou, als je het over een mixed blessing hebt. Ik kreeg een mailtje van Technorati dat ze het probleem met het indexeren van het weblog hier opgelost hadden. En inderdaad de index is weer bijgewerkt. Maar blijkbaar had dat ook meteen tot gevolg dat mijn 'authority' index met 2 naar beneden ging.
Helaas hebben ze niet meteen het probleem voor het Publiek Werk onderdeel van de site hier opgelost, die staat nog steeds op een laatste keer bijgewerkt van 131 dagen geleden.
Nou ja, maar eens kijken of dit blijft werken of dat het een eenmalig succesvolle indexeer actie was.