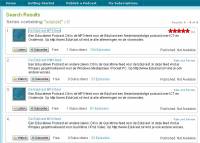 "Yahoo! apologizes deeply, but we will be closing down the Podcasts site on Oct. 31, 2007"

(bron)
Ik werd er opgewezen via een bericht bij Mashable. Blijkbaar gooit Yahoo! eind deze week haar overzicht van Podcasts dicht. Je kon er de EduKast ook vinden. Maar, het bericht dat Yahoo! weer aan aantal van haar onderdelen flink aan het herstructureren is, is eigenlijk voor mij belangrijker dan dat je de EduKast daar straks niet meer kunt vinden. Als Nederlandstalige podcaster heb ik gemerkt dat ik bij dat soort grote, op het buitenland gerichte, sites toch niet zo veel te zoeken heb. Naast de verwijzingen van het weblog hier, heb ik dan veel meer aan de vermeldingen bij Podplaza.nl (daar vind 10% van de luisteraars het overigens maar niks), Podcastinfo en natuurlijk in iTunes.
Het vervelende aan sommige van dit soort sites is namelijk dat ze niet regelmatig genoeg nieuwe afleveringen komen ophalen. Bij Podcast.net is de meest recente aflevering van 10 december 2006. Bij ODEO zijn ze blijven steken op 12 augustus 2007. Als een vermelding bij zo'n site betekent dat ik er achteraan moet gaan mailen, dan is dat, gezien het kleine aantal luisteraars dat zij sowieso doorsturen, snel al niet meer de moeite waard.
We zullen zien waar Yahoo! straks mee komt.