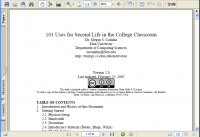 Dr. Megan S. Conklin maakt al geruime tijd gebruik van Second Life in haar onderwijs. En voor iedereen die zich nog afvraagt wat je er nou vanuit het onderwijs mee zou kunnen doen is 101 Uses for Second Life in the College Classroom een goed startpunt. Ik denk overigens dat het meer als course 101 gezien moet worden (dus een intro voor beginners) omdat er ook een heel handig stukje "getting started" in staat. Er staan namelijk geen 101 verschillende lesideeën in. In deze versie zijn het er 31. Maar aangezien versie 1.0 uit 2005 is, en dit de bijgewerkte versie 2.0 uit 2007 is, zou het me niet verbazen als versie 3.0 er wél zoveel bevat.
En als je dan toch PDF-bestanden aan het downloaden bent, kan ik je deze: Best Practices For Education in Second Life en deze: The Global Kids Guide to Presenting in Teen Second Life aanbevelen.
In mijn FURL-archief voor Second Life vind je nog een aantal andere recent toegevoegde onderwijs gerelateerde Second Life links.