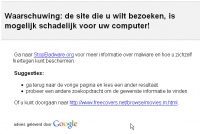 "Is Google Falsely Flagging Harmless Sites? Web site operators say Google is mistakenly warning users that visiting some sites in search results may be dangerous."

(bron)
Ik had het nog niet eerder gezien, maar vandaag zowel een bericht op PC World erover en net daarvoor een eerste live ervaring waarbij ik na een zoekopdracht in Google doorklikte naar een site en eerst een waarschuwing te zien kreeg dat de site die ik wilde bezoeken mogelijk schadelijk voor mijn computer was. Ik dacht eerste dat het zo'n reclame was die je dan wilde doorverwijzen naar een site waar je software kunt kopen, maar een blik op de URL deed toch echt vermoeden dat het een Google-melding was.
Op PC World uiteraard een reactie van een site die onterecht op deze manier gelabeled wordt. Spreekt voor zich, want ook bij click-fraude, gesjoemel met pageranks en zoekresultaten zijn er altijd wel voorbeelden te vinden van mensen die zeggen dat zij ten onrechte het slachtoffer daarvan geworden zijn. En, daarvan zal een deel zeker terechte klachten hebben.
Los daarvan, vind ik het niks. Wat moet ik nou met zo'n waarschuwing? Bij de hoofdpagina van Google heb je een knop "Ik doe een gok". Wil Google nou dat ik dat bij deze site ook, of juist niet doe? Laat het resultaat dan gewoon niet zien. De search leverde 1.939.999 andere resultaten op. Heb ik meer dan genoeg aan.