"Philips will first launch the VP5500 cordless videophone in the Netherlands as part of Dutch telecommunications operator KPN's consumer VoIP (Voice-over-IP) product InternetPlusBellen being introduced this year."

(bron)
Wat een mooi product! En het komt nog als eerste in Nederland uit ook nog. Een mobiele telefoon op wifi én video die via het SIP-protocol communiceert.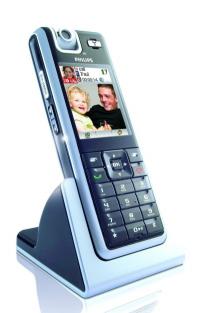 Nou zal hij in de uitvoering zoals hier aangegeven wel gelockt zijn voor gebruik met de genoemde KPN-dienst, maar dan nog. Ik zou het haast voldoende reden vinden om daar een tijd gebruik van te maken.
Al denk ik dat ik dan wel erg veel telefoontjes van mijn kinders zou krijgen.


Maar stel je dit eens voor bij een grote instelling zoals waar ik werk. Wij hebben veel studenten, redelijk wat docenten en veel locaties. Op steeds meer van die locaties wordt door het gebouw ook voorzien van draadloos internet. Dan kun je als student/docent/medewerker online zijn en gebeld worden (als jij dat wilt uiteraard) en je doet aan instant videoconferencing. En als Waldo er nu voor zorgt dat ze bij Macromedia snel SIP-support inbouwen in Breeze, dan kun je ook los van je werkplek en pc/laptop met beeld deelnemen aan zo'n vergadering.
Dit wordt écht het jaar van de video.