Vorig jaar werkte ik een transcript uit van een Netwerk-uitzending over weblogs. Het gevolg was dat ik voor het eerst in het bestaan van dit weblog op één dag 1000 pageviews had. Je kunt die piek nog steeds herkennen op het jaaroverzicht van vorig jaar.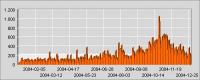 Gelukkig heb ik dit jaar niet meer zulke vreselijke uitzendingen nodig om dat soort aantallen te halen.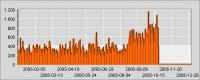 "Today, the university will publicly debut a project called Stanford on iTunes, providing Stanford-related audio content via the iTunes Music Store, Apple's popular music jukebox and online music store. Stanford on iTunes will give alumni and the general public free access to a wide range of Stanford-specific digital audio content."

(bron)
Ik heb een beetje gemengde gevoelens. Van de ene kant vind ik dit iets waarvan ik hoop dat er snel Nederlandse versies komen, van de andere kant vind ik het zwaar knudde dat waar ik ook klik op de Standford on iTunes-pagina (toegegeven, het zit al in de naam) ik de vraag krijg of ik iTunes heb. Het beluisteren van podcasts is niet voorbehouden aan gebruikers van iTunes of bezitters van een iPod!!