Het is zomer, vakantie, onderweg naar Zuid Frankrijk, over de Route du Soleil, toch je radio mee, hé daar kunnen we iets mee, want ons Radio 2 programma Route du Soleil doet aan podcasting en als je er in de trein naar kunt luisteren, waarom niet op vakantie, moet de tekstschrijver op Omroep.nl gedacht hebben toen hij schreef:
"Route du Soleil via podcast
U hoeft tijdens uw vakantie Route du Soleil op Radio 2 niet te missen! De hele serie kunt u namelijk downloaden via een gratis Podcast-abonnement. Reis mee naar Zuid-Frankrijk voor een mysterieuze zoektocht naar de Heilige Graal."

(bron)
Nou daar wilde ik natuurlijk wel meer van weten.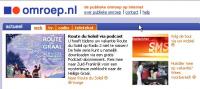 Op de site van Route du Soleil een nette link naar een pagina waar uitgelegd wordt hoe je hun podcasts kunt volgen: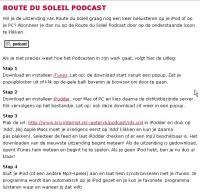 Heldere informatie, hier weten ze waar je het over hebben. Op de site van Route du Soleil hebben ze het dan ook helemaal niet over het tijdens je vakantie luisteren naar hun programma's. Logisch ook. Want hoe wil je vanaf de camping in Zuid Frankrijk nou die RSS-feed met de podcasts gebruiken? Of ben ik de enige die tijdens mijn vakantie offline ga? De uitzendingen zijn wekelijks, en nog niet uitgezonden afleveringen kan ik nog niet downloaden.
Of zouden ze bedoelt hebben dat ik nadat ik terug was van vakantie toch nog de gemiste afleveringen kan beluisteren omdat die dan als podcasts nog beschikbaar zijn als ik een gratis abonnement neem op hun feed? Dat zal het wel zijn.
Maar…wie van jullie neemt een verzameling vooraf gedownloade podcasts mee op vakantie?