Nog even een vervolg op het bericht van eerder vandaag over het toevoegen van trackback aan de wiki. Allereerst een pessimistische mening:
"I've grumped about this a number of times in comments, my own and others, but oddly enough, not in an entry. TrackBack autodiscovery is evil, and will be the death of TrackBack."

(bron)
Gelukkig blijkt het praktijk ook een heleboel voordelen te hebben.

Waar gaat het om?
In elke wiki-pagina vind je nu een stukje RDF-code. Als je bijvoorbeeld naar de bron voor weblog kijkt zie je dit: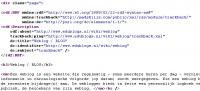 Een weblog die beschikt over "trackback autodiscovery" kijkt naar alle pagina's die vanuit een post gelinkt worden en zoekt daar naar die RDF-code. Het stukje "trackback:ping" geeft daarbij aan wat de URL is die gepingd moet worden.
Dat hoeven dus niet alleen wiki-pagina's, of alleen de pagina's op edublogs.nl te zijn, ook de site van Phil Ringnalda (uit het pessimistische citaat) maakt er gebruik van en de url om naar zijn site te pingen heb ik dan ook niet hoeven op te zoeken of in te typen.
Wat kan er nog meer mee?
Behalve voor de wiki, stelt Edublogs.nl de RDF-code nu ook beschikbaar voor de kanalen-functie. Dat maakt het eenvoudiger om te pingen naar een kanaal. Als ik namelijk in mijn post een verwijzing opneem naar het kanaal zelf, dan haalt (in mijn geval) Nucleus de trackback-URL zelf op door naar de RDF-code in de kanaalpagina te kijken.
Dit bericht verschijnt ook in het kanaal Weblogs en wiki's van de edublogs.nl website.
Voor dit bericht ziet het resultaat er dan zo uit: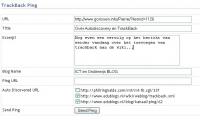 Je ziet dat ik er in dit geval voor kies om maar naar twee van de drie herkende urls te pingen. Als ik tóch nog naar Phil Ringnalda zou willen pingen, bijvoorbeeld met een Engelstalig bericht, kan ik dat daarna alsnog doen.