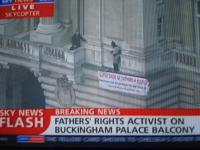 Ik neem haast aan dat dit item gisteren ook op de Nederlandse TV geweest is. Maar voor het geval dat je het gemist hebt: een boze vader van Fathers 4 Justice klom, verkleed as batman, op een riggel naast het balkon van Buckingham Palace.
Op Sky News was het breaking news, dat even belangrijk was als de toespraak van Blair op dat moment in Bristol. Dus werd het beeld in twee helften gedeeld met Blair aan de linkerkant en Batman aan de rechterkant van het scherm.
Vanochtend nog was de discussie (ook onder de deelnemers hier) of hij nu had moeten worden neergeschoten of niet, want stel je voor dat het een terrorist was met een bom in plaats van een boze vader. De verantwoordelijke minister zei dat de politie goed gehandeld had omdat ze al snel wisten dat het iemand van Fathers 4 Justice was. Waarop de oppositie natuurlijk opmerkte dat Al-Qaida voortaan dan maar als batman verkleed moest gaan. Dan wordt je tenminste niet neergeschoten.