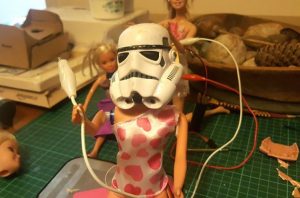 Op de BBC website staat een mooi filmpje (embedden is helaas nogal een ding, gaat via lelijke iframe) van een workshop die door Artronix uit Glasgow ontwikkeld is. In de workshop bouwen deelnemers/leerlingen robots met een of meerdere micro:bits, servo's, LED's etc.
Op zich niet nieuw. Maar de opdracht daarbij is om een scene uit een bekende film na te bouwen. Op de website zie je voorbeelden van Jeepers Bleepers, War of the Worlds – Rise of the micro:bits, Micro:Wars – A New Code, Bride of Frankenbit, A Fistful of micro:bits.
De scenes bevatten een combinatie van hergebruikte speelgoed poppen, decors, filmeffecten en vooral veel creepy stemmetjes. De clips zijn kort en ook dat is niet altijd gemakkelijk want het betekent dat ze heel erg to the point moeten blijven. Bekijk ze zeker ook even op de pagina van de BBC daar staat ook de PDF met instructies. Op Twitter zijn er ook een aantal te vinden.
(p.s. aan de tweets kon ik zien dat het project van 2017 is, ik kwam er vandaag pas via de Adafruit website)