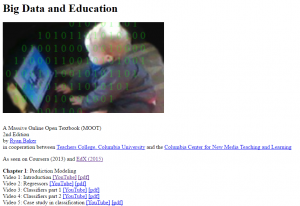 Tijdens de avond over elektronische boeken als onderdeel van de post-HBO e-learning van Fontys die ik eerder deze maand verzorgd heb, liet ik de deelnemers nadenken over de vraag wat volgens hen een ebook is.
Doel van die oefening was dat ze zich realiseerden dat het bepalen van die definitie en bijbehorende grenzen verre van eenvoudig of eenduidig was.
Maar voor het product dat ik vandaag tegen kwam: een "Massive Online Open Textbook"  of MOOT  vind ik de term "Textbook" toch wel erg ver gezocht. Feitelijk is het een webpagina met daarin de video's en PDF van de dia's die horen bij een MOOC over Big Data in het onderwijs. Ik snap daarom het MOO deel, de C valt er vanaf omdat het geen Course is. Maar een MOOW (Massive Online Open Webpage) zou dan beter zijn.
Ik vind een voorwaarde voor een ebook (en in dit kader ook wel een "textbook") dat ik het boek ook daadwerkelijk kan downloaden en offline kan bewaren. Natuurlijk, dan zou hij in het geval van deze MOOC best groot kunnen worden, maar dan zou ik zeggen: maak 2 versies waarbij 1 alle bronnen bevat en 1 alleen verwijzingen naar de online versies van de bronnen. Dan is het ook meer dan wéér een nieuwe loot aan de boom van MOOC gerelateerde afkortingen en buzzwords.