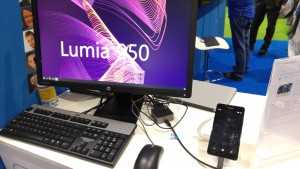 Dat Microsoft met Continuum een tamelijk unieke mogelijkheid in huis is, was me tamelijk snel duidelijk toen ze dit vorig jaar aankondigde. Tijdens de Bett was het duidelijk niet iets waar heel veel naar gevraagd werd (in tegenstelling tot de Surface, de Surface Book, Minecraft in Education, OneNote etc) want de vriendelijke Microsoft meneer (sorry, weet zijn naam niet) die me te woord stond dacht eerst zelfs dat ze er geen op de stand hadden. Gelukkig wees zijn collega hem naar de plek waar een Lumia 950 aan het dock aangesloten lag. Dat dock is compact maar relatief zwaar, blijkbaar omdat Microsoft er gewicht aan heeft toegevoegd om het stabiel te maken. Verbinden kan ook draadloos, maar mij lijkt de dock ideaal omdat je dan meteen ook toetsenbord en muis aangesloten hebt en de Lumia meteen opgeladen wordt.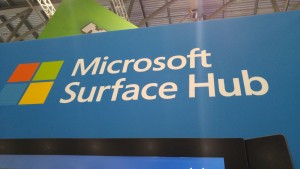 Als je de Lumia aansluit dan wordt de kracht van de Windows 10 universal applicaties  zichtbaar: op de telefoon zijn het mobiele apps, aangesloten aan de dock zien ze er uit als desktop apps. Uitdaging gaat worden om de applicatiebouwers zover te krijgen dat ze ook daadwerkelijk universal apps gaan bouwen. De mensen van Microsoft die ik er over gesproken heb (en wellicht is het daarom ook maar goed dat ik geen namen weet en/of noem) waren daar heel open in: de store schiet nog tekort. En dat zal beter moeten. Ik hoop dat ze dat voor elkaar krijgen.
Daar waar ik kansen voor Continuum zie, zie ik het voor de Microsoft Surface Hub moeilijker in. Ik schreef begin vorig jaar toen de eerste filmpjes verschenen daar al over. En eigenlijk is dat beeld vandaag niet gewijzigd. Ja, het is een mooi, scherp, scherm (4K). En ja, de hechte Windows 10 integratie ziet er mooi uit. Dat je eenvoudig, draadloos een Surface (Book) aan kunt sluiten, iets wat nodig is als je desktop applicaties wilt runnen is mooi, maar het is ook een mooie manier om te zeggen dat je *alleen* maar universal applicaties kunt installeren op het apparaat zelf.
Bij bedrijven, waar er wellicht 1 of 2 aangeschaft worden, zie ik nog wel een plek voor de Surface Hub, maar dan ook vooral als status symbool. Bij scholen vrees ik dat de prijs van al dat moois, dit scherm buiten het bereik van veel scholen plaatst. Die moeten er immers meestal ook meer dan 1 of 2 aanschaffen.