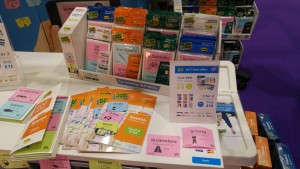 In de categorie "verrassend" tijdens de Bett 2016 horen zeker ook de Flash Sticks. De stand zat helemaal volgeplakt met dingen die er uit zagen als gewone post-its. Maar als je de app op je smartphone gebruikte en de post-it scant dan krijg je een kort filmpje van een persoon die het woord in de taal waar het over gaat voor je uitspreekt.
Het zijn post-its die je gebruikt om een vreemde taal te leren. De meneer die me op de Bett een korte toelichting gaf, zie je ook in dit filmpje:
Nou was mijn reactie niet echt zoals de mensen in mijn filmpje, het werkte wel. Het idee is dat je de stickers plakt op de spullen waar het over gaat en zo de hele dag op een speelse manier bezig bent met het leren van een taal. Natuurlijk waren de woorden ook afgestemd op het taalcurriculum in Groot Brittannië zodat het ook voor scholen bruikbaar was. Een vanzelfsprekendheid waar iedereen op de Bett overigens mee kwam.
Leuke feature was de foto-optie van de app. Hij maakte een foto van de laptoptas die ik op mijn rug had hangen en de app herkende die, gaf het Engelse woord "black red book bag" en vertaalde hem als een "zwart rood boekentas". Niet helemaal perfect natuurlijk en hoewel het zou helpen als je op deze manier tekst vanuit een vreemde taal vertaald zou je zo andere woorden/zinnen juist grammaticaal niet helemaal correct kunnen leren.
Aangezien ik voorstander ben van het verbieden van het woord "leuk" als het gaat om dit soort toepassingen zou ik graag weten of dit echt leidt tot langdurig hogere motivatie bij leerlingen als het gaat om het aanleren van woordjes en of het resultaat dan beter is dan het gewoon leren vanuit boek of online omgeving.