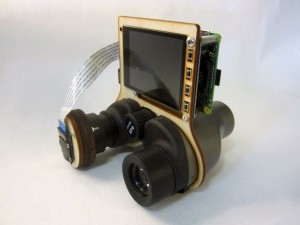 Goed, praktisch is het  niet. En er zijn vast betere oplossingen voor, in de praktijk zal het maken van foto's ongetwijfeld ook tegenvallen. Maar alleen al voor het "the making of'" filmpje (zie hieronder) scoort Josh Williams meer dan genoeg bonuspunten voor een blogpost. De uitgebreidere instructable is hier beschikbaar.
Het idee is simpel en eenvoudig af te leiden uit de foto hiernaast: Josh heeft een gewone verrekijker ("Binoculars") genomen, een Raspberry Pi, een LCD-scherm voor de Raspberry Pi (in dit formaat een euro of 30-40), een Raspberry Pi webcamera (euro of 25) en dat allemaal aan elkaar verbonden zodat je een verrekijker krijgt met LCD scherm en de mogelijkheid om foto's te maken.
De foto's hebben een lelijke zwarte rand er omheen (of je zou dat de charme van het concept kunnen noemen), vandaar mijn bedenkingen bij de praktische toepasbaarheid. Maar als je het versnelde filmpje hieronder ziet van het assemblageproces en dan met name het "even snel" ontwerpen van het frame dat met een lasersnijder gesneden worden, dan zou je haast meteen naar de winkel rennen om er zelf eentje te kopen (die zijn daar, tenzij ze uit China komen, echter veel te duur voor, dan kun je beter naar een Fablab rennen).
Hoe dan ook zeker eentje die in de categorie "omdat het kan" een plekje moest krijgen.
(gevonden via Raspberry Pi.org)