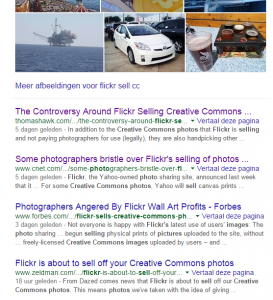 Ja hoor, het is weer eens zover: een grote, boze, slechte, commerciële partij (Yahoo! / Flickr) heeft weer eens iets gedaan waar *iedereen* meteen moord en brand over moet schreeuwen.
Terwijl wat ze doen, niet illegaal is, integendeel, het is gewoon precies zoals het de bedoeling was. Alleen de mensen die er zich nu over opwinden zijn van mening dat het dan toch fout is.
Waar gaat het allemaal over?
Flickr heeft het idee opgevat om foto's van hun klanten te gebruiken als bronmaterialen voor hun dienst waarbij je die foto's op canvas kunt laten afdrukken zodat je ze aan de muur kan hangen.
In sommige gevallen betalen ze de fotografen daarvoor, in andere gevallen krijgt de fotograaf er geen cent voor.
Ik formuleer het met nadruk even zo, zodat je het bloed al kunt gaan laten koken. "Wat?!", "Schandalig?!", "Zo'n commercieel bedrijf dat zomaar geld durft te gaan verdienen met *mijn* foto's?!", "Altijd al geweten dat het slecht ging met Flickr nadat ze aan Yahoo! verkocht waren, maar dit bewijst het nog maar eens!".
Zucht. Nee, helemaal geen schande. Flickr kiest handmatig foto's uit die ze heel goed vinden en waarbij mensen "alle rechten voorbehouden" of een CC-licentie die alleen niet-commercieel gebruik toestaat bevat, en die fotografen bieden ze een deel van de opbrengst (51%).
Alle andere foto's, die ze zónder financiële compensatie gebruiken, hebben een CC-licentie die commercieel gebruik gewoon toestaat.
Maar voor een aantal mensen is dat onverteerbaar:
As a photographer, I now have to choose whether to prevent people from using my photos, or prevent Yahoo from selling them. I can't have both.
I want people to use my photos. That's why I take them. I want that usage to be unencumbered. That's why I chose a Creative Commons license. Some of the publications and businesses that use my photos make no money at all. Others make a little something. I don't care either way. That's why I chose a Commercial Attribution license. The license makes my work available to all publications and products, whether commercial or non-commercial. Fine with me.
But Yahoo selling the stuff? Cheesy, desperate, and not at all fine with me. I pay for a Flickr Pro account, and am happy to do so. That's how Yahoo is supposed to make money from my hobby. (bron)
of:
And I stand by my conviction that creating a licence which enables just anyone to make money from anyone's photos without a shred of compensation save for all the glorious "exposure" was a silly move – hinting of some carried over communism. (bron)
en:
This feels like a "net neutrality" issue. It's objectionable because Yahoo! is the custodian of our art. They host my art and keep it safe; I entrust my art and pay them money. This new role and relationship adds money motives that could be in conflict with Yahoo's "fiduciary duty" to me. It muddies waters that should be clean and transparent.
Waarom is er zo van moet zuchten?
Ik denk deels ook wel omdat het een issue is dat niet nieuw is. Ook in het onderwijs heb je zulke heftige gevoelens als het gaat om hergebruik van materiaal dat mensen als "van hen" zien. Docenten die een reader gemaakt hebben, filmpjes, stukjes uitleg etc.
Daarbij dan vergetend dat zij ook vaak gebruik maken van materiaal van anderen. Dan maakt het ze eigenlijk niet uit of dat van een amateur is of van iemand die daar zijn boterham mee verdiend. Maar als zij hun materiaal op hun beurt beschikbaar moeten stellen, dan maakt het opeens wel uit: niet een docent van de concurrent om de hoek, niet die commerciële uitgever die het gebruikt om geld mee te verdienen.

In de reacties hierboven zie je dat de kritiek zich niet alleen richt tegen Flickr. Er zijn mensen die principieel problemen hebben met het toestaan dat anderen *zomaar* geld verdienen met iets dat jij gemaakt hebt. Ook zijn er mensen die problemen hebben met de rol van Flickr. Maar dat is dan weer tegenstrijdig: geen probleem er mee hebben als anderen geld met je foto's verdienen, zolang dat maar niet Flickr zelf is?
Het enige wat ik me afvraag is of Flickr vooraf deze commotie voldoende ingeschat heeft.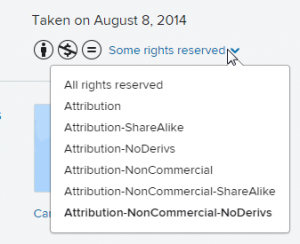 En daarnaast moet ik bekennen dat het ook voor mij een reden was om te kijken welke CC-licentie ik zelf ook al weer aan mijn publieke foto's had hangen. Ik wist dat ik NC had, maar blijk zelfs ND (geen afgeleide werken) er aan te hebben hangen.
Eigenlijk heel beperkend dus.
Het is me eigenlijk wat veel werk, er zitten namelijk ook foto's bij die nu niet publiekelijke zichtbaar zijn en waar ik die licentie niet aan wil hangen, maar ik vond het hele gedoe voldoende reden om in ieder geval een aantal van de publieke foto's opnieuw van een licentie te voorzien: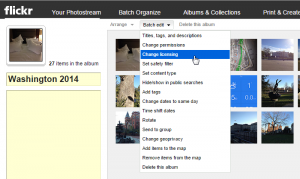 Kan gewoon als batch voor een heel album. De wijziging? Naar CC-BY natuurlijk. Als Flickr geld kan verdienen met die kiekjes, dan moeten ze dat vooral doen. Als een uitgever ze wil gebruiken in een boek of andere online publicatie, prima. Als een website die reclame maakt voor vakanties ze wil gebruiken, be my guest.