Coursera Specialisation Data Science start morgen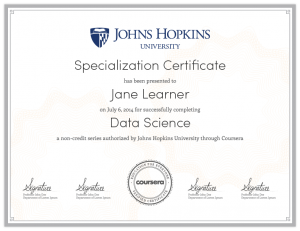 Het heeft even geduurd sinds de aankondiging afgelopen januari, maar morgen gaat de Coursera Specialisation Data Science eindelijk van start.
Ik ben voornemens deze af te ronden. In hoeveel tijd dat gaat gebeuren is nog even afwachten. Ik heb me voor de eerste aangemeld met meteen al de betaling voor de signature track. Voor de tweede (R programming) heb ik vrijstelling op basis van de Data Analycis MOOC, voor de derde (Getting and Cleaning Data) heb ik me in eerste instantie gewoon even aangemeld en kijk ik de komende week wel of ik dat haalbaar acht om gelijktijdig te doen.
Ik ben benieuwd. Het zou natuurlijk wel mooi zijn als de serie het hoge niveau van de andere losse MOOC's van John Hopkins weet te halen.