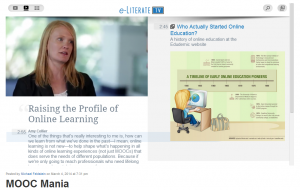 e-Literate TV is een co-productie van MindWires Consulting, opgericht door Michael Feldstein en Phil Hill, en IN THE TELLING, in samenwenwerking met het e-Literate weblog van Michael Feldstein.
Ze hebben tot nu toe een viertal afleveringen online staan, waarvan deze over MOOCs gaat. Als je een beetje iets van MOOCs weet dan zul je er waarschijnlijk niet echt nieuwe dingen in horen, maar het gaat mij (uiteraard?) ook om het format waarin de video's aangeboden worden.
In het onderstaande filmpje leggen de makers zelf uit hoe het concept werkt:

Ik twijfel een beetje tussen "wauw" en "te ingewikkeld". Wauw was het eerste wat ik dacht toen ik de video bekeek. Handig dat de verschillende bronnen automatisch voorbij komen. Mooi dat je tussen de verschillende views kunt schakelen. Netjes ook dat het transcript mee te lezen is, dat je er op kunt zoeken etc. Het lijkt een beetje op de verrijkte weblectures zoals de VU ze ook maakt.
Maar toch zie ik een tweetal haken en ogen (en vandaar het "te ingewikkeld"):
Productietijd en -kosten; het linken (en vooraf verzamelen) van de bronnen, het uitwerken van het transcript en linken van transcript aan video kosten de nodige tijd.
Complexiteit van de omgeving; ik vraag me af in hoeverre de doelgroep van dit filmpje over MOOCs (d.w.z. mensen die er nog niet veel over weten en een kort overzicht willen hebben) niet helemaal het overzicht kwijt raken in zo'n player die standaard heel veel opties heeft en drie informatiestromen laat zien.
Ik neem aan dat ze het gebruik van de player goed meten en monitoren. Dan zou te achterhalen moeten zijn of mensen afhaken en zo ja op welk punt. Los daarvan is het een mooie omgeving. En ik zou me er in online onderwijs / MOOC verband ook wel wat bij kunnen voorstellen. Zo helpen de navigatiemarkers en zoekoptie studenten sneller delen terug te vinden, biedt het mogelijkheden om naar verdiepingsmateriaal te verwijzen etc.
Maar dan moet je wel ook de werkvormen die je inzet zo maken dat ze daartoe uitgedaagd worden.