Second Life + Moodle = Sloodle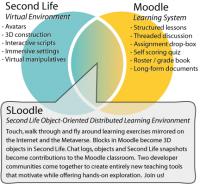 Hier moet ik nog even wat rustiger/uitgebreider naar kijken, maar Sloodle ziet er als idee al veelbelovend uit:
"SLoodle is a project to integrate the VLE platform Moodle with the 3D world of Second Life. Imagine a Moodle course that, if you wanted, could turn into a proper 3D interactive classroom with all your Moodle resources available to your students in the virtual world."

(bron)
Ik heb ook de whitepaper (PDF!) maar even opgeslagen om eens door te lezen. Eerst maar weer eens een update van SL installeren. Kom je er een weekje niet, dan is het de laatste tijd bijna automatisch zover. Dat moeten we met onze ELO niet proberen, dan zouden toch wat anders te horen krijgen.