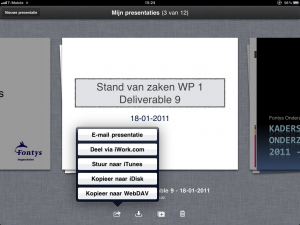 Een van de minder handige dingen aan de iWork verzameling voor de iPad (Pages, Keynote, Numbers) vind ik toch wel het weer van de iPad af krijgen van bestanden die je in een van de drie programma's bewerkt hebt. En eigenlijk voornamelijk omdat de programma's geen export mogelijk hebben naar hét bestandsprogramma voor op de iPad: Dropbox. Als export-opties in Keynote heb ik ter beschikking: E-mail presentatie, Deel via iWork.com, Stuur naar iTunes, Kopieer naar iDisk, Kopieer naar WebDAV.
Ik heb een hekel aan het gebruik van iTunes voor het uitwisselen van bestanden, die optie gebruik ik dus nooit. Dat geldt ook voor de optie "Kopieer naar iDisk", aangezien ik geen iDisk-account heb en me dat ook wat duur is. Ik maakte voorheen meestal gebruik van de optie "E-mail presentatie" maar Keynote waarschuwt me dan terecht over de vaak enorme omvang van de bestanden. Een presentatie van enkele tientallen MB's is niet ondenkbaar (zelfs zonder afbeeldingen). Dat ging dus niet altijd goed, maar dan kwam het bestand in ieder geval in de verzonden items terecht en dan kon ik het daar ook op mijn laptop met Outlook wel weer uit halen. Niet ideaal, maar het werkt.
Een reden voor mij om WebDAV en iWork.com eens naast elkaar te zetten als alternatieven voor het gebruik van e-mail. Je kunt doorklikken en het online lezen, of hieronder in EPUB of PDF formaat downloaden.


WebDAV versus iWork.com (EPUB 680KB)


WebDAV versus iWork.com (PDF, 2MB)
[17:09 uur] Er waren problemen met de server waar de bestanden op stonden. De links werken nu weer!