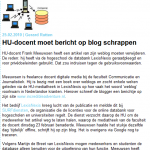 Wat zou het leven toch eenvoudig kunnen zijn. Je leest ergens iets, wil daarover schrijven, doet dat, neemt vermelding van de bron op en klaar. Iedereen tevreden.
Niet tevreden
Niet dus. Want het kan nou eenmaal voorkomen dat je die informatie wel mag lezen, maar slechts in een bepaalde context weer mag gebruiken. Zo ook als je als docent toegang krijgt tot de LexisNexis database met o.a. het archief van het AD, Trouw, Volkskrant, NRC, Parool, Het Financiële Dagblad. De informatie in die database mag je volgens de licentie alleen gebruiken "for the purposes only of (i) your own research or study, (ii) providing professional services to your clients, and (iii) your provision of academic services to students".
Frank Meeuwsen gebruikte (blijkbaar, want het artikel is offline) informatie uit LexisNexis in een blogpost op incredibleadventure.nl. Daarin onderzocht hij hoe vaak het woord weblog voor komt in de landelijke dagbladen tussen 2000 en 2009. Wat hij daarvoor gedaan had was het uitvoeren van een zoekopdracht op "weblog" voor elk van die jaren in de LexisNexis database en op basis van de resultaten per krant (ik zie trouwens dat de HU meer kranten afneemt via LexisNexis dan mijn werkgever) had hij een grafiek gemaakt die een enorme stijging in aantal berichten liet zien en daarna weer een afname.