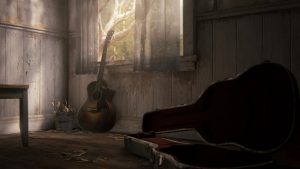 Toen ik "BEYOND: Two Souls" had uitgespeeld beschreef ik het als het "beleven" van het spel. Waarom dan nu niet? Het zegt eigenlijk meer over mijzelf dan over The Last of Us Part 2. Want wat "men" er ook over wil zeggen, ik vond het gewoon een heel goede game en een indringend verhaal. Ik heb in totaal 29 uur en 10 minuten nodig gehad om het spel te doorlopen en daarbij ben ik nog steeds verre van en completionist. Al is dit echt wel een spel waarbij het nodig is om veel van het standaard pad af te wijken, ontzettend veel (vaak lege) lades en kasten open te doen op zoek naar materialen en upgrades.
Net als bij Tomb Raider weet je dat als je wat meer munitie tegen komt, je daarna in een moeilijke situatie terecht gaat komen, maar verder gaat de vergelijking redelijk mank. Lara kan qua diepgang niet tippen aan Ellie of Abby.
Aangezien ik ook deze game op de gemakkelijke stand gespeeld heb, was hij goed te doen. Waarom op de gemakkelijke stand? Als ik zeg dat ik zulke spellen speel voor het verhaal dan klinkt het zoals vroeger die mannen die zeiden dat ze bepaalde bladen niet kochten voor de plaatjes maar voor de verhalen die er in stonden. Laat ik het dan anders formuleren: ik heb The Last of Us Part 2 uitgespeeld zonder hulp, dus zonder online op zoek te (moeten) gaan naar walk-throughs, tips over waar codes te vinden zijn, strategieën over hoe je bloaters moet aanpakken etc.
Maar ik ben (nog steeds?) iets minder vaardig in het razendsnel met alleen een controller richten en schieten. Speel ik op Windows, dan schakel ik soms bij scenes waarbij het op nauwkeurigheid komt vaak nog even over op het gebruik van de muis om te richten, dan kan op een Playstation 4 niet.
Als ik wat meer tijd heb om te richten, dan hoef ik niet elke 2 minuten een save-point te laden omdat ik dood ben. En kan ik meer tijd besteden aan het oplossen van de andere uitdagingen van het spel.
Goed, de game zelf dan. Die blijkt nogal wat negatieve aandacht te trekken.