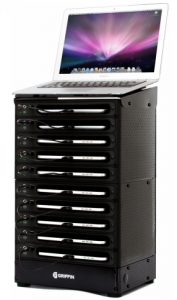 Ik moet bekennen dat ik het nog nooit heb hoeven doen, maar stel dat je voor een klas, een bibliotheek, een trainingscentrum regelmatig 10 to 30 iPads tegelijkertijd moet opladen. En dat je ook van tijd tot tijd op al die iPads de applicaties wilt updaten of nieuw applicaties moet installeren. Dan heeft Griffin nu een oplossing voor je met de MultiDock.
Per MultiDock kun je 10 iPad aansluiten. Ze worden dan tegelijkertijd opgeladen. Je kunt op de MultiDock een laptop of Macbook plaatsen en dan de 10 iPads via iTunes onderhouden (back-uppen/apps installeren etc). Je kunt zelfs tot 3 MultiDocks aan elkaar koppelen en zo 30 iPads tegelijkertijd opladen en onderhouden.
Ik zou wel eens een screenshot willen zien van iTunes met daar 30 iPads aan gekoppeld, lijkt me toch ook wel een heel apart gezicht. Denk dat dat dan ook niet zo heel handig meer werkt. Goedkoop is het geheel niet, de adviesprijs is $699,99 per MultiDock. Maar ja, mocht je inderdaad zo veel iPads moeten beheren dan lijkt me dit een handige oplossing.
(getipt door nothingbuttablets.com)