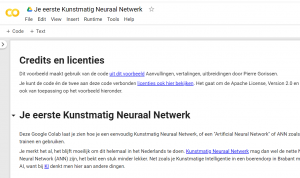 De uitdaging was: geef een introductie op Kunstmatige Intelligentie voor collega-onderzoekers die er wellicht ooit wel eens van gehoord hebben, zeker nog nooit gebouwd hebben, in het algemeen geen programmeerervaring hebben.
Het moest in ieder geval ook hands-on zijn, want dat werkt nou eenmaal het beste.
Beide uitgangspunten: hands-on en laagdrempelig vormden een redelijke uitdaging. De verschillende laptops hadden immers niet de benodigde software of programmeeromgevingen geïnstalleerd. En dat allemaal vooraf (laten) doen op de verschillende systemen zou het overgrote deel van de beschikbare tijd opslurpen.
Daarom hebben we gebruik gemaakt van Google Colab, een experimentele online omgeving van Google waarbij ze Jupyter Notebooks (gratis) beschikbaar stellen. Je weet het: gratis experimentele omgevingen van Google verdwijnen net zo snel als dat ze verschijnen, dus je wilt er niet een business op bouwen. Maar omdat de notebooks die je er maakt "gewone" Jupyter Notebooks zijn (disclaimer: ik moet nog testen of ze daadwerkelijk uitwisselbaar zijn), jou je een Colab notebook moeten kunnen exporteren en, indien gewenst op je eigen Jupyter Notebook omgeving kunnen installeren.
Je kunt de Colab hier vinden: http://kortelink.com/CoE-AI
Dat betekent dat je voldoende hebt aan een Google account om je eerste kunstmatige neurale netwerk te beschrijven, te compileren, te trainen en te evalueren.