Een deurbel met een camera staat erg laag op mijn lijstje van apparaten die ik altijd al eens had willen aanschaffen. Maar ja, ook ik herken zonder problemen het Ring chime geluid, al zou ik moeite hebben met het noemen van een tweede concurrerend merk. Toen bij The Hook Up vier deurbellen met elkaar vergeleek was ik dus ook gewoon geïnteresseerd of er echte concurrentie was voor Ring.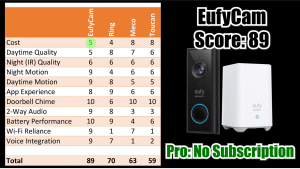 Het antwoord lijkt te zijn: ja
Maar ook: er is eigenlijk geen enkele doorbelcamera die goed scoort op alle factoren die in de test meegenomen werden. Ik heb de totaaltabel die ook aan het einde van de video wordt getoond hierboven opgenomen. De Eufy heeft ook een versie mét kabel, dan ben je niet van batterijduur afhankelijk, maar met een totaal van tegen de 200 euro, is het ook niet echt een goedkope vervanging voor je "domme" deurbel. Voor mij zouden oplossingen die niet afhankelijk zijn van online opslag van de video's echter hoe dan ook de voorkeur hebben.
Het is er in ieder geval weer een in de categorie: het leven in een "slim" huis kan een stuk ingewikkelder worden. In ieder geval op het moment dat je zo'n apparaat wilt aanschaffen en een afgewogen keuze wilt maken.