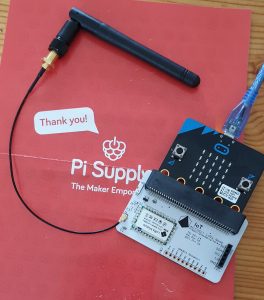 Toen ik vorig jaar oktober de aankondiging van de Kickstarter voor o.a. een uitbreidingsbordje waarmee je een Micro:bit via het The Things Network kunt laten communiceren, had ik al zo mijn bedenkingen bij de logica ervan. Meer daarover in dat vorige bericht, vandaag kwam de bestelde node binnen (minder dan 2 maanden later dan gepland, heel normaal voor een Kickstarter) en kon ik ermee aan de slag.
Assemblage is eenvoudig. De antenne schroef je op het ene uiteinde van de kabel, de andere kant druk je voorzichtig op de juiste plek op de node. Je hebt zelf een Micro:bit nodig. Die had ik uiteraard.
Daarna is het een kwestie van de stappen volgen in de online handleiding.
Daarin wordt uitgelegd hoe je bij The Things Netwerk (TTN) een nieuw device aanmaakt. Dat was voor mij zeker niet voor het eerst dus tamelijk gesneden koek, ik heb geen idee hoe complex dat voor iemand is om te doen als je het voor het eerst doet.