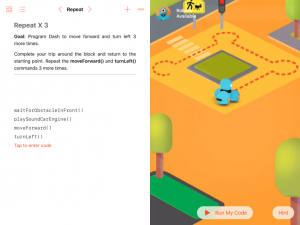 Persoonlijk ben ik nog niet zo onder de indruk van Apple Swift Playgrounds, de omgeving die je bij iOS 10 beschikbaar hebt om te leren programmeren in Swift. Het waarom daarvan is iets voor een andere blogpost.
Desondanks vind ik het bericht dat de makers van Dash & Dot nu een verbinding hebben met de Swift Playgrounds toch de moeite van het vermelden waard. Want het is op zich wel weer een heel interessante samenwerking waarbij ze er niet voor gekozen hebben om het wiel helemaal opnieuw uit te vinden (ok, er waren/zijn al heel wat opties om Dash & Dot te programmeren) maar om aan te haken bij een product van iemand anders. Het maakt Swift Playground ook weer iets interessanter omdat je kinderen zowel helemaal op het scherm kunt laten programmeren, maar je ook kunt kiezen voor de integratie met fysieke componenten (in dit geval Dash of Dot).
Ik heb geen Dash of Dot bij de hand, maar de uitbreiding voor in Swift Playground is gewoon te downloaden vanaf deze website, maar omdat mijn computer geen Airdrop ondersteund weet ik nog even niet hoe ik e.e.a. dan overgezet krijgt naar mijn iPad. Wordt dus vervolgd.
p.s. De afbeelding is afkomstig van Techcrunch