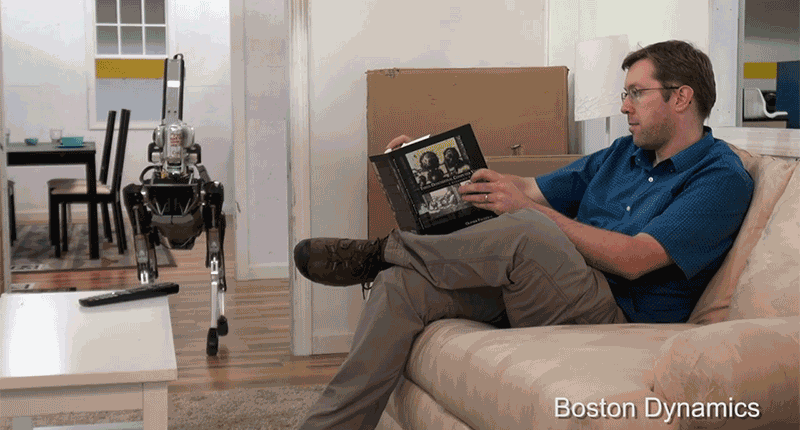 Op extendlimits.nl kwam ik weer een (nieuw) filmpje van Boston Dynamics (nu nog onderdeel van het moederbedrijf van Google, maar ze zijn te koop) tegen. Ik schreef al eens eerder over ze, toen naar aanleiding van ook zo'n robot die best "menselijke" trekjes had. Dat is zeker ook wel het geval als het gaat om deze "hond", de SpotMini.
Hij loopt op 4 poten en heeft een inklapbare nek. Zijn bek kan hij ook als een soort hand gebruiken en zo kan hij dingen vasthouden. Bijvoorbeeld vaat om in de vaatwasser te zetten of een blikje drinken om naar je te brengen als je in de woonkamer op de bank zit. Trappen lopen is geen probleem en ook als je de schillen van 4 of 5 bananen onder aan de trap laat liggen, dan komt het goed, hij maakt en smak, maar staat gewoon weer op.
Ik kan me voorstellen dat je het een eng ding vindt. Het ziet er uit als best een massief beest. Hij weegt bijna 30kg en ik moest ook een beetje denken aan de raptors uit Jurassic Park. Die lopen weliswaar op 2 poten in plaats van 4, maar die nek, kopt en manier van bewegen doen me er toch sterk aan denken. Tja.