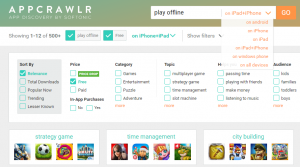 Mocht je besluiten dat je deze april/mei-vakantie tóch niet in eigen land wil doorbrengen (bijvoorbeeld vanwege het fantastische weer dat voorspeld is), dan kan het natuurlijk zijn dat je de auto of het vliegtuig neemt naar warmere / drogere oorden.
Als je dan onderweg je iPad / iPhone / Android smartphone of tablet wilt gebruiken om spelletjes te spelen dan zul je soms tot de vervelende ontdekking komen dat zo'n spel dan een werkende internetverbinding nodig heeft. Gelukkig zijn er ook sites, zoals Appcrawler waarbij je vooraf al kunt filteren op apps die offline werken. Dat gaat niet in 100% van de gevallen helemaal goed, want ik zag dat het ook wel eens voor komt dat er een app getoond wordt waarbij de gebruikers zeggen "het zou mooi zijn als hij ook offline werkt" (dus nu nog niet).
Maar goed, het is een start.