Over een week is het al weer Pasen. En bij Pasen horen natuurlijk versierde eieren. Dat kun je helemaal met de hand doen, of niet.
Nou schreef ik in 2013 een blogpost "Paaseieren versieren voor de echte geek" over de originele Egg-Bot. Die robot is geavanceerder maar heeft als nadeel dat hij niet goedkoop is, maar ook wel dat het een apparaat is dat maar één ding kan doen.
De "EV3 Egg Decorator" heeft als voordeel dat je hem, mits je over de verschillende LEGO EV3 onderdelen beschikt, kunt bouwen, gebruiken en dan weer uit elkaar kunt halen zodat de onderdelen voor andere zaken beschikbaar komen (en volgend jaar bouw je hem gewoon weer op).
Bij het iXperium hebben we 8 EV3 sets. Ik weet niet of we ook de overige onderdelen in huis hebben, dat ga ik eens navragen. En natuurlijk dan meteen ook of onze stagiaires of media-mentoren deze week tijd en zin hebben om er eentje te bouwen. We hebben namelijk donderdag a.s. nog een klas met groep 8 leerlingen op bezoek die als onderdeel van het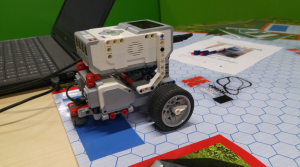 project "Individuele verschillen in onderzoekend en ontwerpend leren: het voorspellend vermogen van het Toetsinstrumentarium Wetenschap & Technologie" weer met LEGO Mindstorm aan de slag gaan. Daarbij krijgen ze de opdracht om een LEGO Mindstorm robotauto een parkoers af te laten leggen. Als dank voor hun medewerking krijgt elke school na afloop ook zo'n set. Dan zou een eierverfmachine demo natuurlijk mooi bij het naderende Paasweekend passen.
Dan zorg ik wel voor een doos hardgekookte eieren! 🙂
Wie weet mogelijk wordt vervolgd dus…