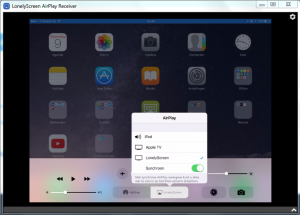 Als je een iPad (of iPhone) gebruikt en je wilt wat presenteren op een beamer, bijvoorbeeld tijdens een les of training, dan kun je natuurlijk je iPad met een kabeltje aan de beamer hangen. Als je heel geluk hebt, dan heb je een ruimte waar een Apple-TV aan de beamer of het scherm hangt en dan kun je AirPlay gebruiken, maar dat ben ik nog niet zo heel vaak tegen gekomen.
Wat dan? Vaak heb je, naast je iPad, wél een Macbook of Windows laptop bij je. Die kun je met een kabel (VGA of HDMI) dan aan het scherm of beamer hangen. Nou moet je er alleen nog voor zorgen dat je Macbook of laptop dienst kan doen als AirPlay ontvanger. Nou kan dat al een tijd, maar ik wist niet dat er ook gratis programma's waren om dat te doen. Op techapple.net kwam ik er twee tegen: LonelyScreen en 5Kplayer.
Zelf ben ik LonelyScreen aan het testen. Ik vond de 5Kplayer website er een beetje teveel uitzien als zo'n site waar de software toch niet helemaal functioneel of helemaal gratis van blijkt te zijn nadat je hem geïnstalleerd hebt. Maar ook bij LonelyScreen is het even de vraag wat precies hun verdienmodel gaat worden. Het is geen open source software, in de applicatie kom ik geen reclame tegen, maar hoe lang de tool online beschikbaar blijft weet ik niet.
De werking van beide tools is tamelijk simpel: je start het programma en als je laptop en iPad op hetzelfde netwerk zitten, zul je de naam van het programma als een extra AirPlay ontvanger op je iPad zien verschijnen. Beiden hebben ze daarnaast de mogelijkheid om een schermopname te maken van wat je in het venster te zien krijgt. Je krijgt dan wel altijd ook het blauwe balkje boven in je iPad in beeld dat getoond wordt als je AirPlay gebruikt. Daar kunnen de programma's niets aan doen, dat doet iOS.
Ik ga hem vanavond eens testen in een niet thuis-omgeving. Kijken of het dan ook een handige manier blijkt te zijn om mij iPad weer te geven tijdens het verzorgen van een training. Dan heb ik namelijk mijn laptop aan de beamer hangen en de mogelijkheid om snel even naar het iPad scherm over te schakelen zonder die los te halen is dan wel heel handig.