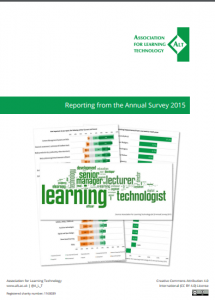 De Britse Association for Learning Technology, beter bekend als gewoon ALT heeft vandaag de resultaten van haar tweede "Anual Survey" op het gebied van leertechnologie gepubliceerd.
Mooi is dat ze niet alleen het rapport, maar ook de bijbehorende data en grafieken (in anonieme vorm) beschikbaar stellen via deze repository-pagina. Niet alleen voegt dat een laag transparantie toe aan het rapport, het maakt het ook mogelijk om waar mogelijk andere deel-analyses uit te voeren dan in het rapport voor komen.
Nou is het rapport primair natuurlijk op de doelgroep van de ALT gericht, en daarmee voor een deel specifiek voor het Verenigd Koninkrijk. maar dat betekent niet dat we er in Nederland niets aan hebben.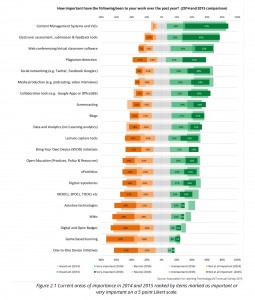 Bijvoorbeeld als het gaat over het belang van onderwerpen waar de invullers het afgelopen jaar veel mee te maken hebben gehad. De keuze van de grafiekvorm daarbij is overigens wat apart. Antwoorden in de onbelangrijk / heel onbelangrijk categorie komen links in het rood en met negatieve percentages. De belangrijke en heel belangrijke komen rechts in het groen met positieve percentages. De neutrale categorie wordt in het grijs weergegeven met de helft links en de helft rechts van de nullijn. Het geeft op zich wel weer een grafiek die visueel duidelijk is, maar toch.
Hoe dan ook, opvallend is dat Contentbeheersystemen en leeromgevingen hoog scoren, elektronische toetssystemen eveneens. Maar One-to-one device initiatieven schoren weer heel laag. Grootste stijger is "Data and Analytics (inc. Learning Analytics) en ook Digital and Open Badges en Assistive Technologies (al hoop ik dat iedereen daar een duidelijk beeld bij heeft gehad bij het invullen van de vragenlijst) stijgen flink.
De woordencloud met andere technologieën die genoemd werden en die niet in het aangeleverde lijstje stonden: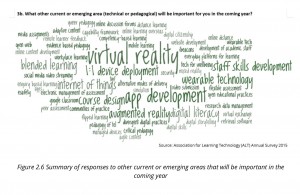 laat zien dat het maken van zulke lijstjes een moeilijke klus blijft. Want Virtual Reality, App development, Wearable Technology, Augmented Reality, Staff skills development, zijn toch niet de minste om niet in je lijst te hebben staan.