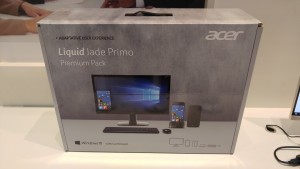 Nee, ik heb het niet over mezelf, van een stevige verkoudheid/griep of wat het ook is waardoor ik al 2 dagen meer in bed lig dan erbuiten te vinden ben, ga ik niet dood. Ik heb het over Windows op smartphones. Een paar weken geleden werd duidelijk dat het vooral bergaf gaat met de verkoop van Microsoft smartphones. En, toegegeven, ik vond Windows Phone 7.5 geen onverdeeld succes, maar Windows 10 in combinatie met Continuum leek mij vanaf dat ik er voor het eerst van hoorde een super concept voor al die mensen die nu een Android toestel van de baas krijgen en daar (ook) niet van weten wat ze er mee moeten.
Maar net als iedereen Windows 10 op mobiele telefoons ten grave lijkt te hebben gedragen komen zowel HP als Acer met producten op de markt die gebruik maken van Continuum. Nou is het gegeven dat HP dat doet niet echt geruststellend. Het zou namelijk niet de eerste keer zijn dat ze een veelbelovend technisch platform op de markt brengen en zich dan bedenken. Daar komt bij dat de Elite x3 niet zomaar voor consumenten te koop zal zijn, dus het zal geen product voor de massamarkt worden. Van de andere kant, daar is het ook niet voor bedoelt.
De Acer Liquid Primo lijkt meer een product dat voor iedereen te koop zal zijn, het is per direct beschikbaar voor zo'n 800 euro en bevat een Windows 10 telefoon van Acer, een beeldscherm, een dock, draadloos toetsenbord en draadloze muis. Doelgroep ook hier zijn kleine bedrijven die op deze manier hun medewerkers een flexplek kunnen aanbieden. Als veel van je werk online, via een browser, of in Office of via een remote desktop uitgevoerd kan worden, dan heb je aan deze set lijkt mij vaak al genoeg.
De HP Elite X3
Demo van de Acer Liquid Jade Primo