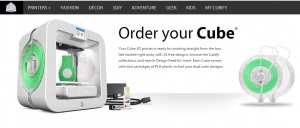 Het is weliswaar een bericht van vorig jaar (ha ha) maar eentje die ik zó weinig voorbij heb zien komen dat ik er toch nog even naar wil verwijzen: 3D Systems heeft besloten om haar op consumenten gerichte 3D-printer Cube "end-of-life" te verklaren.
Concreet betekent dit dat ze wat ze nog hebben nog verkopen en dat het daarna afgelopen is met deze printers. De bijbehorende site cubify.com gaat per 31 januari 2016 al uit de lucht. Niet in het bericht staat hoe lang ze na die datum nog cartridges met filament voor de printers zullen blijven verkopen. Want dat is wel een issue bij deze printers. Je kunt namelijk niet zomaar elk filament laden, je moet gebruik maken van de cartridges die 3D Systems er voor verkoopt.
Omdat het niet om een faillissement of zo gaat, maar 'slechts' om een besluit van een groot bedrijf op basis van te weinig verkopen (inschatting is zo'n 13.000 per jaar) tot nu toe, kan het zijn dat ze nog een paar jaar cartridges blijven verkopen. Dan zou het voor de bestaande klanten redelijk probleemloos moeten verlopen. Bouwen ze de ondersteuning sneller af, dan betekent het voor die bestaande klanten dat ze sneller met een apparaat komen te zitten waar ze niets meer mee kunnen.
Tja, het zou een risico moeten zijn dat de kopers bewust genomen hebben. Ik schreef in 2014 al eens over het businessmodel van 2D printers en de vraag of dat nu ook voor 3D printers ging gelden. Zó ver is het (nog) niet gekomen. Het is echter hoe dan ook een waarschuwing tégen gesloten systemen. Of het nu om content gaat of over apparaten en de verbruiksmiddelen die je er voor nodig hebt.