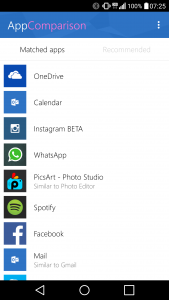 Microsoft wil graag dat "we" niet langer denken dat er geen apps beschikbaar zijn voor Windows Phone. En hoe kun je dat beter doen dan Android gebruikers laten zien dat het echt wel mee valt en dat hun favoriete apps ook voor Windows Phone beschikbaar zijn.
Klinkt als iets wat een marketeer verzint na een heftige brainstormsessie.
Het resultaat ervan kun je nu downloaden als Microsoft AppComparison. Ik heb hem getest en ik krijg inderdaad best veel apps te zien. Handig dus om snel even te zien welke apps wél beschikbaar zijn.
Maar…de applicatie laat niet zien welke apps op mijn LG G4 niet beschikbaar zijn voor Windows Phone. Een gemakkelijk antwoord is natuurlijk "de rest", maar het natuurlijk een kleine moeite geweest om ook die applicaties waar geen versie of vergelijkbaar alternatief voor Windows Phone voor beschikbaar is, te noemen.
Dan hadden ze het zo kunnen aanpakken als dat Amazon een paar jaar lang gedaan heeft: met een knop bij de app waarmee je een bericht naar de makers van die app eenvoudig kunt vragen of ze ajb ook een versie voor Windows Phone willen maken. Ik zie dat Amazon er inmiddels alweer mee gestart is, maar in de startfase hielp het ongetwijfeld.
Eigenlijk is het zo heel erg een app geworden die het "oude Microsoft" zou produceren. En dat is toch wel jammer.