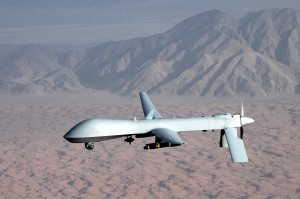 Toen ik een tijdje geleden schreef de conceptregels van de FAA in de VS voor commercieel gebruik van drones, heb ik me beperkt tot de vraag of we niet meer ruimte voor experimenten zouden moeten laten dan dat nu het geval is. Dat is niet alleen in de VS het geval, ook in Nederland. Voor particulier gebruik zijn de regels "helder", d.w.z. ze vallen onder de regeling modelvliegen. DARPAS (Dutch Association for Remotely Piloted Aircraft Systems) heeft een PDF met toelichting gemaakt (PDF).
Voor commercieel gebruik ligt het in principe ook vast: dan moet je een ontheffing van de Inspectie Leefomgeving en Transport (ILT) hebben om te vliegen. Dat klinkt dan eenvoudig, maar dan gaat het om projectontheffingen (voor 1 vlucht) of bedrijfsontheffingen (voor een bedrijf dat dan in ieder geval al meerdere projectontheffingen moet hebben gehad). En voor zo'n ontheffing heb je wel een paar dingen nodig:
Basistraining door erkend opleidingsbedrijf met theorie-examen
Praktijkexamen door erkend opleidingsbedrijf
Goedgekeurde Operations Manual
Goedgekeurd Toestel
Luchtvaartverzekering
en dan ben je er nog niet:
Per vlucht een provinciale vergunning Tijdelijk en Uitzonderlijk Gebruik (TUG)
(soms niet nodig)
Toestemming van de eigenaar van de grond waarvan je opstijgt en landt. (logisch?)
5 Dagen voorafgaand aan de vlucht via beheerder luchtruim een Notice To Air Man (NOTAM) aanmelden.
1 Dag voorafgaand aan de vlucht een melding naar de burgemeester van de gemeente waarvan je opstijgt en naar ILT.
Niet echt even "accu er in, aanzetten en vliegen".
OK, maar waarom zoveel aandacht voor dit onderwerp hier op het blog? Nou, omdat er een heel concrete onderwijs gerelateerde vraag aan verbonden is.
Lees verder….